For music aficionados and DJs alike, the rotary mixer stands as a symbol of superior sound control. In this immersive guide, we will take a detailed tour through some of the best rotary mixers for DJs in 2023, assuring you choose wisely for your next live set or studio recording.
Understanding the Rotary Mixer
Before we proceed to dissect the specifics, let's briefly familiarize ourselves with the concept of a rotary mixer. A rotary mixer is a kind of music mixing desk favored by DJs for its refined, authentic sound and hands-on control mechanism. The "rotary" knobs from which the mixer gets its name, distinctively differ from the linear faders that are typically found in conventional mixers.
Why Opt for a Rotary Mixer?
1. Exceptional Sound Quality
Due to their superior construction and high-quality components, rotary mixers usually deliver an unparalleled sound experience, resulting in an immersive, warm, and appealing mix.


2. Dynamic Control
Rotary mixers, with their tactile and smooth control interface, enhance user experience by enabling precise modifications during a performance.
3. Visual Appeal
Their retro aesthetics and attractive design make them an eye-catching addition to any DJ setup.
Best Rotary Mixers for DJs in 2023: An In-Depth Look
Having established the importance of rotary mixers, let's navigate through our carefully selected list of the top picks available today.
1. Rane MP2015 Rotary DJ Mixer
The Rane MP2015, priced at $2,899, stands as a benchmark in the realm of rotary DJ mixers. Offering high-resolution audio combined with unmatched flexibility and dynamic control, this mixer is a top choice among professional DJs. Key features include a dual USB port for easy back-to-back DJing and an integrated 3-band output EQ for extensive sonic sculpting.
Channels: 4+1
Inputs: 4 phono/line switchable, 1 session in, 2 mic inputs
Outputs: Main out (XLR), booth out (1/4″), session out (RCA), headphone out
Weight: 13.5 lbs / 6.1 kg
Price: $2,899
2. Mastersounds Radius 4V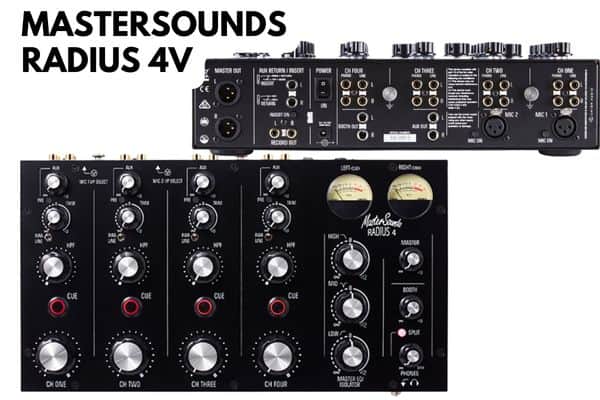 The Radius 4V by Mastersounds, retailing at $1,899, is a revelation in the mixer market. It boasts a fantastic analog sound and a four-channel design, making it ideal for DJs looking for versatility. Its compact size and retro aesthetic make it a perfect fit for any DJ setup.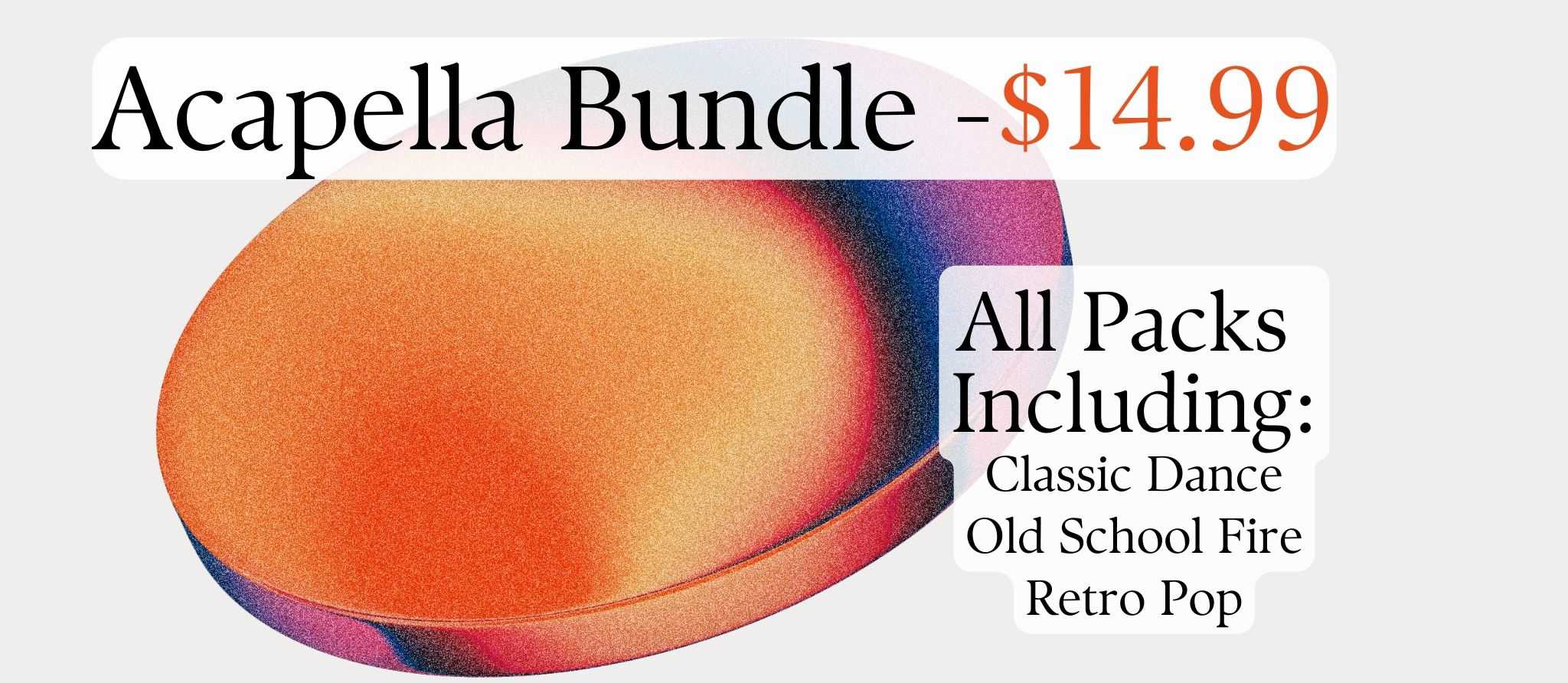 Channels: 4
Inputs: 2 phono, 2 line, AUX in
Outputs: Main out (XLR), record out (RCA), booth out (1/4″), headphone out
Weight: 11 lbs / 5 kg
Price: $1,899
3. Superstereo DN78 Phantom Valve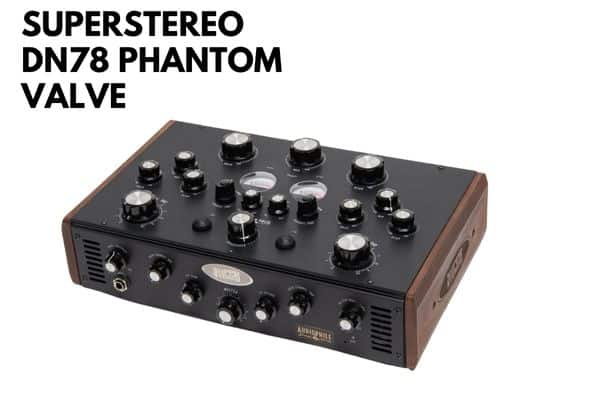 Priced at $2,499, the DN78 Phantom Valve mixer by Superstereo is a delight for vintage audio gear enthusiasts. It uniquely fuses classic valve technology with modern functionality for an unparalleled audio experience.
Channels: 2
Inputs: 2 phono, 2 line, mic input
Outputs: Main out (XLR), record out (RCA), headphone out
Weight: 14 lbs / 6.35 kg
Price: $2,499
4. E&S DJR400

The E&S DJR400, available for $2,699, is a fantastic compact and portable rotary mixer for DJs constantly on the move. Its warm sound output and user-friendly controls make it a favorite amongst DJs globally.
Channels: 4
Inputs: 2 phono, 2 line, mic input
Outputs: Main out (XLR), record out (RCA), headphone out
Weight: 8.8 lbs / 4 kg
Price: $2,699
5. Alpha Recording System Model 9900
The Model 9900 from Alpha Recording System, priced at $3,999, brings studio-quality sound to a DJ's setup. Its top-quality components and robust build ensure it delivers consistently over an extended period.
Channels: 4
Inputs: 4 phono, 4 line, 2 mic inputs
Outputs: Main out (XLR), booth out (1/4″), record out (RCA), headphone out
Weight: 15 lbs / 6.8 kg
Price: $3,999
Selecting the Perfect Rotary Mixer
Consider the following factors before making your purchase:
Sound Quality: Always opt for mixers known for their clean, warm, and dynamic sound output.
Build Quality: A well-constructed mixer is a symbol of durability and consistent performance.
Features: Mixers with EQ control, dual headphone outputs, and other essential features are preferable.
Budget: Choose a mixer that comfortably fits within your budget, ensuring that quality and durability are not compromised.
Final Thoughts
After navigating through the labyrinth of available rotary mixers for DJs in 2023 and their unique characteristics, it's clear that the essence of your craft as a DJ greatly depends on the tools you wield. It's not about chasing after the priciest or the trendiest rotary mixer on the market. Instead, it's about finding the one that resonates with your style and the ambiance you aim to create with your music.
Whether it's the vintage charm of the Superstereo DN78 Phantom Valve or the dynamic control of the Rane MP2015, each of these mixers brings a distinctive personality to your performance. By understanding their intricate specifications, we hope you find the one that truly 'mixes' with your vibe, becoming not just a tool but an extension of your creative spirit.
FAQs
Q: Are rotary mixers superior to regular mixers?
A: Rotary mixers often provide a unique control interface and superior sound quality due to their high-end components.
Q: What is the typical price range for rotary mixers for DJs in 2023?
A: Rotary mixers can range from a few hundred to several thousand dollars, depending on the brand, features, and build quality.
Q: Is a rotary mixer suitable for studio recording?
A: Absolutely! Many rotary mixers provide studio-grade sound, making them a great addition to any recording setup.
Q: How can I maintain my rotary mixer?
A: Regular cleaning and avoiding unnecessary rough handling can help prolong your mixer's lifespan.
Q: Is it easy to use a rotary mixer?
A: While rotary mixers offer a different interface than conventional mixers, with a little practice, they can be very intuitive to use.
If you enjoyed our review of the best rotary mixers for DJs in 2023, head over to our post on The Best Compact Drum Machines for DJs. Or Check our YouTube Video on How to make a DJ MIx in Ableton Live