Welcome to a clandestine journey into the heart of the Electronic Dance Music (EDM) world. Amidst the hypnotic melodies and electrifying beats, there exists a league of trailblazing DJs whose artistry laid the bedrock for this thriving subculture. In this blog, we shine a spotlight on some of the world's best DJs as we unveil their enigmatic lives and transformative influence on EDM's path from the shadows of covert gatherings to a global sensation. Unearth the origins of disco, house, and techno as we delve into their distinct styles and unwavering dedication that sparked the flames of the dance music revolution.
Andy Weatherall – The Visionary Acid House DJ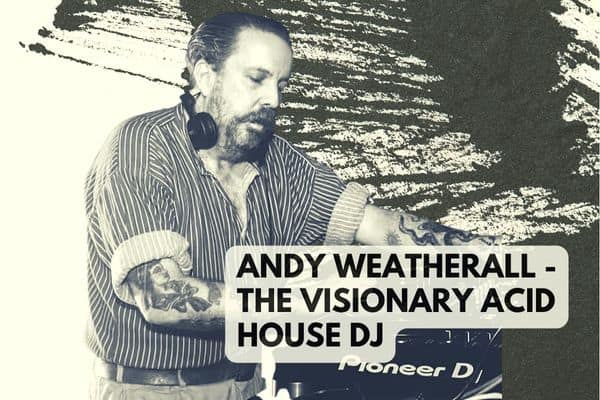 Andrew Weatherall, a man of unassuming demeanor, had an extraordinary impact on the electronic music scene. Starting as a teenager working in a record shop, little did he know that his passion for music would lead to co-founding the influential Boy's Own Magazine, promoting the rise of acid house and rave culture.
A master of remixing, his iconic rendition of Primal Scream's "Loaded" defined an entire era. As part of Sabres of Paradise, Weatherall's unique blend of ambient, techno, and dub garnered critical acclaim. His DJ sets were nothing short of visionary, seamlessly mixing diverse sounds from acid house to rock and dub.


Not one to bask in the limelight, he collaborated with Timothy J. Fairplay for the cosmic and psychedelic album "Ruled by Passion, Destroyed by Lust." Co-hosting the radio show "A Love from Outer Space," he showcased his love for obscure tracks.
His passing in 2020 left a void, but his pioneering work, groundbreaking remixes, and enduring legacy continue to inspire and influence DJs and producers worldwide.
Larry Levan – The Iconic Paradise Garage Resident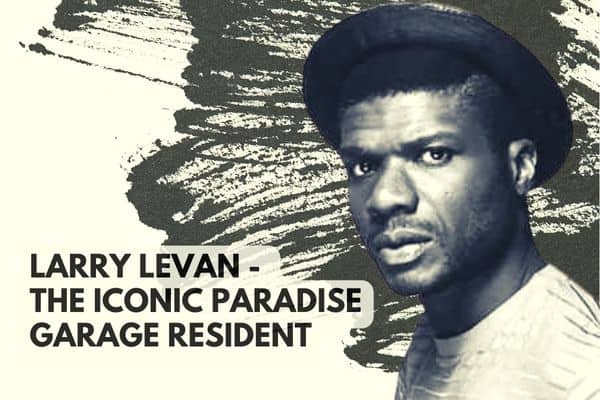 Larry Levan, a true icon in the world of dance music, left an indelible mark on the scene with his exceptional talents and groundbreaking contributions.
As a DJ and producer, Levan was known for his pioneering remixing abilities, transforming tracks into timeless dance anthems that captivated audiences worldwide. However, it was his legendary residency at New York City's Paradise Garage that cemented his status as a dance music legend. The Garage's unique sound system perfectly complemented Levan's DJ sets, creating an immersive and transformative experience for clubgoers.
Beyond his technical skills, Levan fostered a sense of inclusivity and unity on the dancefloor, regardless of background or identity, making the Paradise Garage a haven for all. He acted as a mentor to emerging DJs and producers, helping to shape the careers of many rising talents.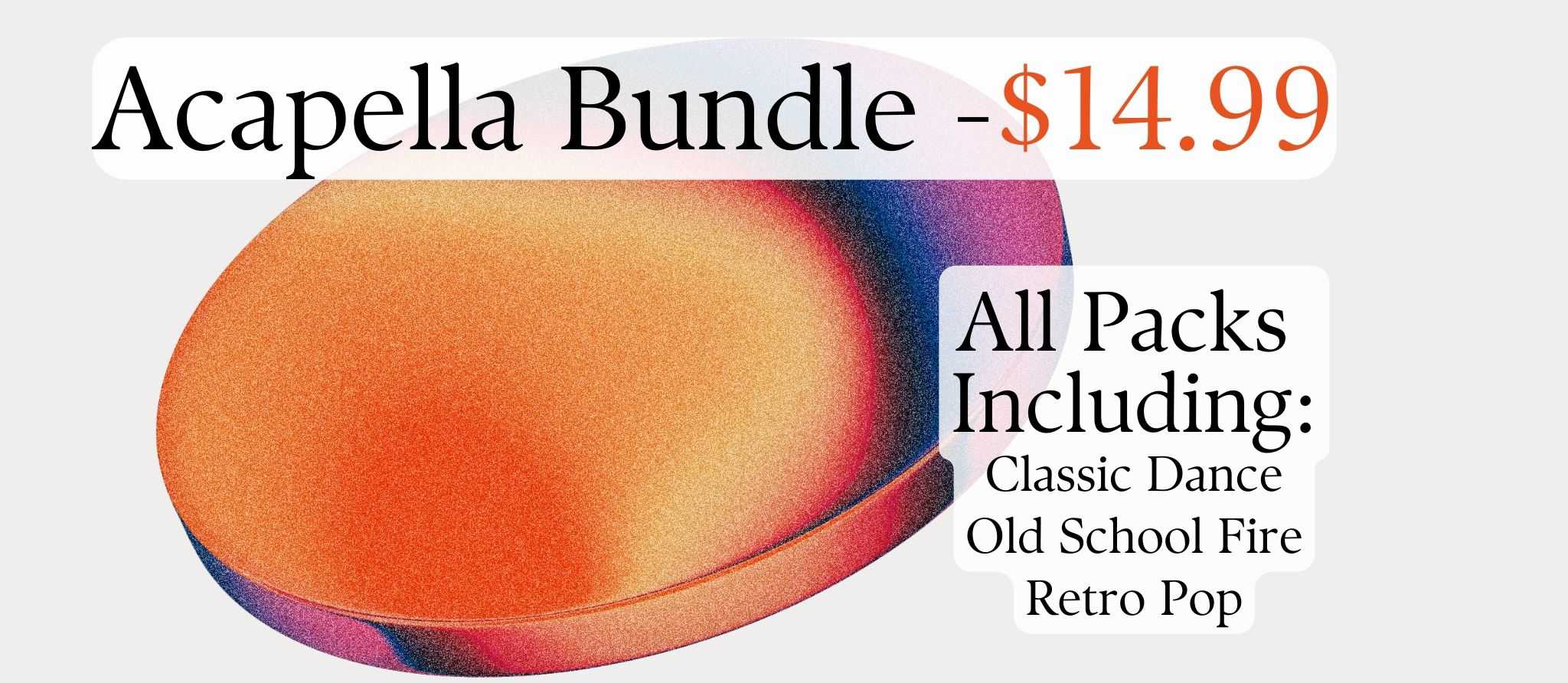 Even after his untimely passing in 1992, Larry Levan's influence endured, and his legacy continues to inspire a new generation of DJs, ensuring that his impact on the vibrant dance music community will be felt for generations to come.
David Mancuso – The Visionary Host of Loft Parties
David Mancuso, a true trailblazer in the world of club culture, created an unforgettable legacy through The Loft, his private and invitation-only parties held in his New York City apartment during the early 1970s. These gatherings became the birthplace of modern club culture, emphasizing inclusivity, diversity, and a shared love for music.
Mancuso's attention to detail was evident in the ambiance he curated, using candlelight to create an intimate and warm atmosphere, while investing in high-quality sound systems to deliver a crystal-clear and immersive audio experience. The non-commercial approach at The Loft showcased Mancuso's pure passion for music and community, as he funded the events himself and never charged an entrance fee.
As a DJ, Mancuso was known for his innovative mixing and selection techniques, playing records in their entirety and exploring various genres to take his guests on an extraordinary musical journey. Despite facing legal challenges, Mancuso's determination and the support of his community led to changes in the law, ensuring the continuation of private parties legally.
David Mancuso's profound influence as a pioneer of club culture and his commitment to creating a transcendent music experience have left an indelible mark on the dance music scene, making him an iconic figure in the history of electronic music.
Frankie Knuckles – The Godfather of House Music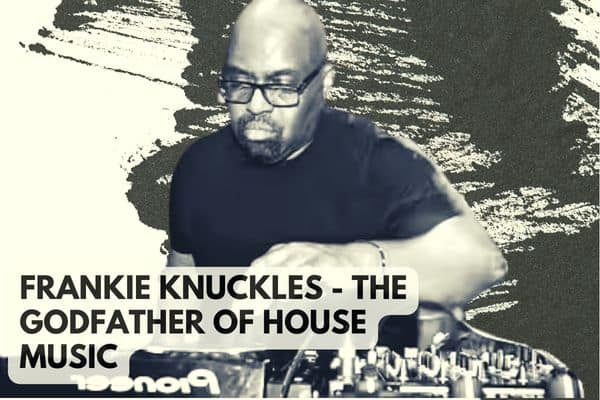 Frankie Knuckles, famously known as "The Godfather of House Music," left an indelible mark on the global dance music scene with his groundbreaking contributions.
As the resident DJ at The Warehouse club in Chicago during the late 1970s and 1980s, Knuckles became synonymous with the early sounds of house music, defining the genre's evolution.

Not only a skilled DJ, but he was also a pioneering remix artist, renowned for transforming original tracks into extended dance versions that became instant club anthems. His remix of Mariah Carey's "Fantasy" earned him a well-deserved Grammy Award in 1997.
Beyond his musical prowess, Frankie Knuckles was a pioneer in promoting inclusivity within the dance music community, making The Warehouse a sanctuary for people from diverse backgrounds and sexual orientations to unite and dance without judgment.
The city of Chicago recognised his immense impact by renaming a street as "Frankie Knuckles Way" in 2004, immortalising his legacy in the heart of the city's music culture. His influence on the dance music world continues to resonate, making him an iconic figure whose contributions will be cherished for generations to come.
Juan Atkins – The Detroit Techno Pioneer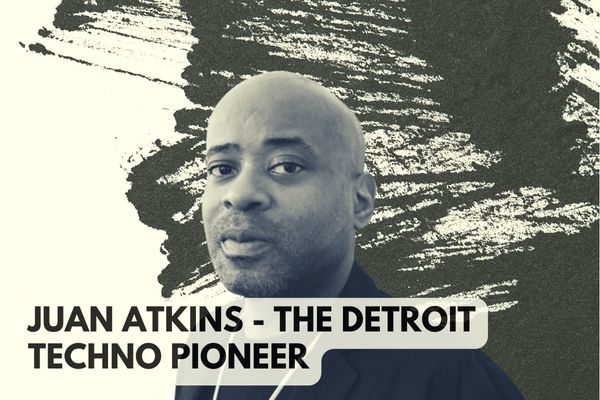 Juan Atkins, an electronic music visionary, holds a prominent position in the annals of music history for his pivotal role in pioneering techno.
Alongside Derrick May and Kevin Saunderson, Atkins formed "The Belleville Three," a trio that shaped the Detroit techno movement during the early 1980s.
Co-founding Cybotron, Atkins catapulted the genre into the spotlight with their revolutionary track "Clear." Released in 1983, the song's blend of funk, electro, and synthesizers showcased Atkins' unparalleled ability to push the boundaries of music production. Additionally, under his alias Model 500, he unleashed the iconic track "No UFOs" in 1985, further solidifying his status as an innovative force in electronic music.
Notably, Atkins' influence extends well beyond the techno realm, as his groundbreaking work paved the way for various electronic subgenres like house, electro, and ambient. His visionary artistry continues to inspire countless artists, making him an enduring and essential figure in the evolution of electronic dance music.
Juan Atkins' contributions have left an indelible mark on the global music community, forever shaping the sonic landscape of the electronic genre.
Nicky Siano – The Disco Pioneer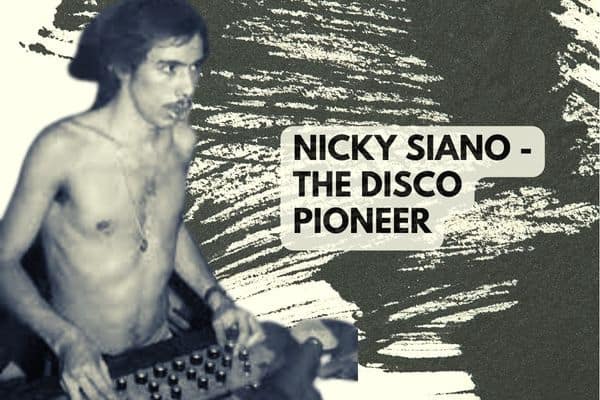 Nicky Siano, an early pioneer of disco music, left an indelible mark on the dance music scene with his extraordinary contributions.
As a resident DJ at the iconic Studio 54, Siano played a pivotal role in creating the club's legendary atmosphere, enchanting the crowd with his eclectic and soulful sets.
Before Studio 54, he co-founded "The Gallery," a groundbreaking venue that celebrated diversity and became a haven for the LGBTQ+ community during the early days of New York's disco scene.
Renowned for his exceptional remixing skills, Siano's extended dance versions of popular tracks became anthems on the dancefloor, captivating clubgoers for hours.
Beyond his achievements as a DJ, Nicky Siano's passion for mentorship and sharing his musical knowledge has had a lasting impact on the dance music community. His influence continues to inspire new generations of DJs and producers, ensuring that his legacy as a disco trailblazer endures in the hearts of dance music enthusiasts worldwide.
Jeff Mills – The Futurist Techno Visionary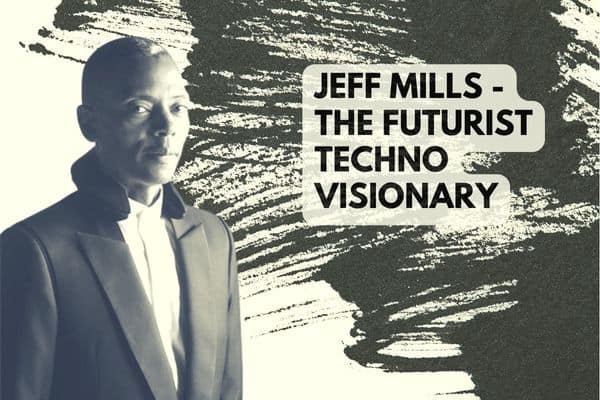 Jeff Mills, a trailblazer in the world of techno, boasts a fascinating career that spans decades. In his early days, Mills kick-started his journey as a radio DJ, hosting the renowned show "The Wizard" in Detroit during the early 1980s.
A defining moment came when he co-founded Underground Resistance, a groundbreaking techno collective, alongside Mike Banks and Robert Hood. Embracing innovation in his performances, Mills introduced the mesmerizing "Wizard Sleeve" technique, captivating audiences with his forearm pitch control manipulation.
But his creativity didn't stop there. Mills' fascination with science fiction and cosmic themes led to an extraordinary collaboration with NASA, presenting the "One Man Spaceship" performances.
Notably, he popularised the use of three turntables in DJ sets, skillfully layering tracks and revolutionising the art of live mixing.
Carl Cox – The Global Techno Ambassador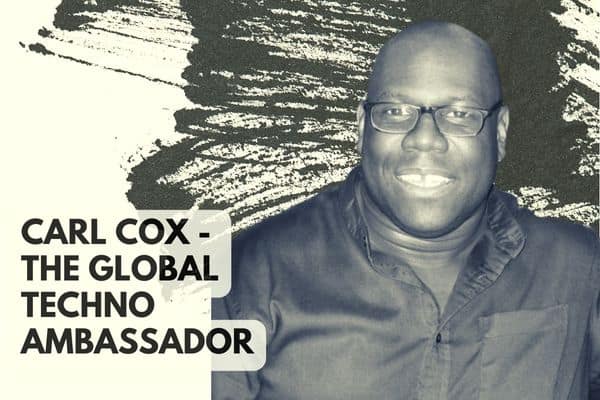 Carl Cox, the iconic DJ and music producer, has left an indelible mark on the electronic dance music (EDM) scene with a career filled with fascinating achievements.
From an early age, Cox's love for music and vinyl record collecting set the stage for his eclectic and versatile DJ style. His breakthrough came when he became a resident DJ at the renowned nightclub, The Hacienda in Manchester, during the late 1980s, contributing to the rise of acid house and techno.
However, it was his legendary 15-year residency, "Music is Revolution," at Space Ibiza that solidified his status as a global dance music icon. His electrifying performances on the party island became a pilgrimage for clubbers worldwide, elevating Ibiza to the mecca of dance music.
Cox's talent and dedication have garnered him multiple DJ Awards, with honours for "Best Techno DJ" and "Outstanding Contribution" to the industry.
Derrick Carter – The Chicago House Maestro
Derrick Carter, a renowned figure in the world of electronic dance music, has left an indelible mark on the genre with his exceptional talent and innovative contributions.
Starting his musical journey from a young age, Carter's early exposure to various instruments paved the way for his unique approach to DJing and production. As a pioneer of acid house in Chicago during the late 1980s, he played a pivotal role in popularising the genre and pushing its boundaries.
Carter is credited with the creation of the "boompty" style of house music, known for its infectious and groovy beats. His remarkable mixing skills and ability to create seamless mashups during his DJ sets have earned him widespread acclaim.
Beyond his performing career, Carter is an active label owner, curating tracks from both established and emerging artists under his Classic Music Company. With an illustrious career spanning decades, Derrick Carter continues to be a driving force in the evolution of electronic dance music..
Kevin Saunderson – The Visionary Producer and DJ
Kevin Saunderson, a member of the legendary "Belleville Three," holds a prominent position in the history of electronic dance music. Alongside Juan Atkins and Derrick May, he pioneered the distinctive sound of Detroit techno, shaping the genre's identity and influence.
Saunderson's musical journey led to the creation of "Inner City," a group that achieved commercial success with chart-topping hits like "Big Fun" and "Good Life," leaving an indelible mark on the dance music scene of the late 1980s and early 1990s.
As an artist, he also embraced the alias "E-Dancer," producing the iconic techno track "Velocity Funk" that continues to resonate with techno enthusiasts.
Beyond his contributions as a producer, Kevin Saunderson played a vital role in Detroit's early rave scene, organising parties that introduced larger audiences to the techno movement. Today, he remains an influential figure and continues to enthral global audiences with his captivating DJ performances, leaving an enduring legacy in the world of techno music.
Final Thoughts
Let us remember that beyond the glitz and glamour, it is the raw creativity and unyielding devotion of these DJs that continue to shape the beating heart of the scene. Stay tuned as there are countless more unsung heroes waiting to be discovered – the rhythm of the underground never truly fades away.
We'll be checking out some more of the world's best DJs in future posts. If you have any ideas for genres or niches, then please contact us on our socials with the title "world's best DJs".
| | | |
| --- | --- | --- |
| DJ | Style | Clubs Best Known For |
| Larry Levan | House, Disco, Funk | Paradise Garage, NYC |
| David Mancuso | Disco, Soul, Funk | The Loft, NYC |
| Frankie Knuckles | House, Disco, Soul | The Warehouse, Chicago |
| Juan Atkins | Techno, Electro, Funk | The Music Institute, Detroit |
| Kevin Saunderson | Techno, House, Electronica | The Music Institute, Detroit |
| Nicky Siano | Disco, Funk, Soul | Studio 54, The Gallery, NYC |
| Jeff Mills | Techno, Experimental | The Necto, Detroit |
| Carl Cox | Techno, House, Tech-house | Space Ibiza, Ibiza |
| Derrick Carter | House, Techno, Disco | Smart Bar, Chicago |
| Andy Weatherall | Acid House, Rock, Dub | Shoom, London |
FAQ's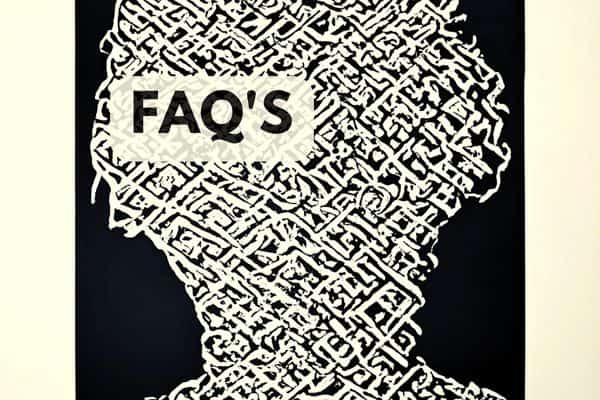 How are the world's best DJs ranked?
The ranking of the best DJs in the world is usually determined by various factors, including their popularity, influence, DJing skills, number of performances, and awards received. Prominent music publications, industry experts, and fan polls often contribute to these rankings.
DJ Mag run an annual poll of the top 100 global DJs
What makes a DJ world-renowned?
A DJ becomes world-renowned when their talent and influence transcend borders and gain recognition on an international scale. These DJs are sought after globally and are known for their exceptional performances and groundbreaking contributions to the music industry.
Where can I find information about the top electronic music artists?

You can find information about the world's best DJs, including biographies, discographies, and news updates, on various music websites, industry publications, and the artists' official websites and social media platforms. Here are a few The DJ Revolution, Acid Stag, Digital DJ Tips
How do the best EDM artists contribute to the genre's evolution?
TheBest EDM artists play a crucial role in pushing the boundaries of electronic dance music. They experiment with new sounds, genres, and production techniques, inspiring the growth and development of EDM as a diverse and innovative musical genre.
Can I find live performances from these DJs online?
Yes, many of the best DJs in the world have their live performances available online, including sets from major festivals, club nights, and radio shows. Official channels, streaming platforms, and social media are common places to find these performances. Try Boiler Room to get you started
How can I stay updated with the latest news and releases from these DJs?
To stay updated with the latest news and releases from the "world's best DJs," you can follow their official social media accounts, subscribe to their newsletters, and visit their websites. Additionally, music news websites and EDM-focused media regularly cover updates on these artists. Resident Advisor is a good point of call for this.
If you enjoyed our blog on The world's best DJs, check out our post on Best Chicago DJs here:
Or check out our Video on How to Make an Ableton DJ Mix here: