In the world of music production, acapellas are like hidden gems that can elevate your tracks to new heights. These pure vocal tracks, stripped of instrumental accompaniment, offer a world of possibilities for DJs, producers, and musicians looking to add a unique and captivating element to their compositions. The best part? You don't have to break the bank to access these valuable resources. Here, we will explore the world of free acapellas, the best websites to find them, and how to use them effectively in your music projects.
The Power of Acapellas
Before we dive into the world of free acapellas, let's understand why they are such a game-changer in music production. Acapellas, often referred to as "vocal stems" or "vocal tracks," offer several advantages:
Versatility: Acapellas can be seamlessly integrated into various genres, from electronic dance music to hip-hop, pop, and beyond. They provide the flexibility to experiment and craft unique soundscapes.
Emotion and Expression: Vocals carry emotions and stories. Adding an acapella to your track can inject depth, passion, and a human touch that resonates with listeners.
Remix Opportunities: Acapellas are a goldmine for remixing popular songs. They allow you to put your spin on chart-toppers and create something entirely fresh.
Learning Tool: Analyzing and remixing acapellas can be an invaluable learning experience for aspiring producers, helping them understand song structure, vocal processing, and more.
Now, let's explore the best websites where you can find free acapellas to play in your DJ sets or use in your studio projects.


1. FreeVocals: A Treasure Trove of Free Acapellas
When it comes to sourcing high-quality, royalty-free acapellas, FreeVocals is a top contender. This website offers a vast collection of acapellas spanning multiple genres, ensuring you'll find the perfect vocal track for your project. From pop to rock to EDM, FreeVocals has meticulously recorded and organized acapellas, making it easy to browse and discover vocal samples that fit your musical vision. It's a go-to resource for both beginners and seasoned producers looking to add vocals to their tracks.
2. Isolated Vocals: Your Source for Isolated Vocal Tracks
Isolated Vocals is another valuable destination for free acapellas. This SubReddit platform curates a comprehensive collection of isolated vocal tracks extracted from popular songs across diverse musical genres. Whether you're remixing a chart-topping hit or creating an entirely original composition, Isolated Vocals provides a great source of vocal stems to spark your creativity. It's an excellent resource for those seeking vocals from an active community.
3. Acapellas4u: A Long-Standing Hub for Acapella Enthusiasts
Acapellas4u has earned its reputation as a long-standing hub for acapella enthusiasts and music producers alike. This website boasts an impressive selection of free acapellas that are regularly updated by a vibrant community of contributors. What sets Acapellas4u apart is its robust search features, allowing you to filter acapellas by genre, BPM (beats per minute), and key. This makes it a breeze to pinpoint the perfect vocal track for your musical project. Additionally, Acapellas4u fosters a supportive online community where producers can collaborate and share their creative endeavors.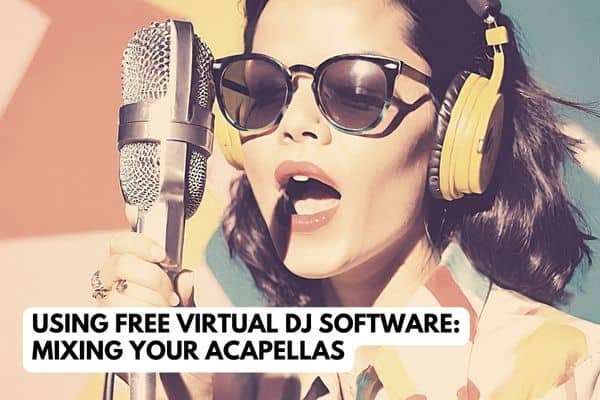 Virtual DJ has long been a popular software option for live DJing and the reason we are including it in our list is that it has the ability to create acapellas through the use of a function called stem separation. This is feature is typically used on the fly in a live DJ environment and gives DJs the ability to separate vocals, drums, bass and the musical elements of a track.
Using stem separation to isolate the vocals and then export them is a great option for creating your own DIY acapellas.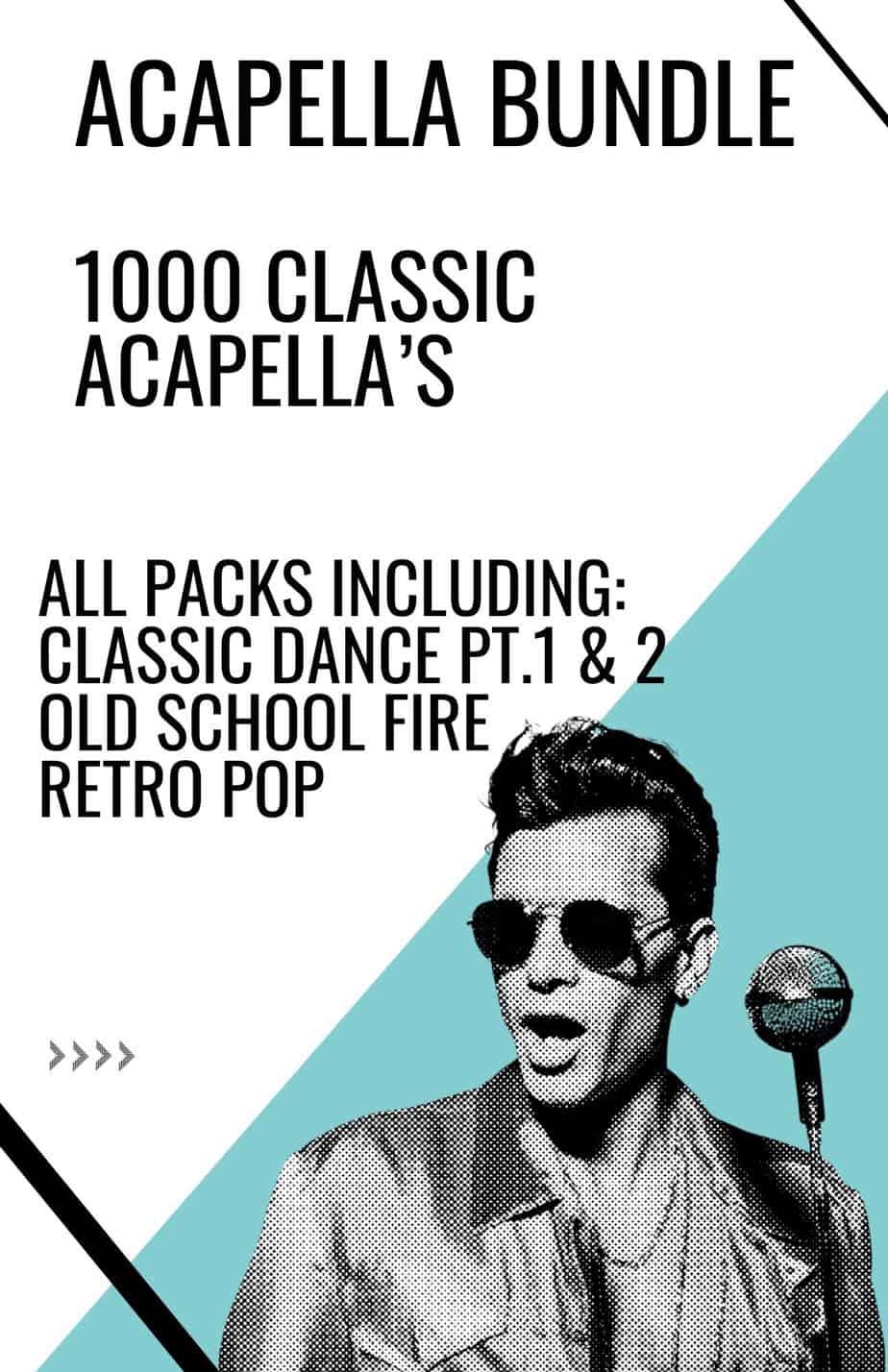 These programs offer an intuitive interface for DJs and producers to mix and manipulate acapellas, allowing you to experiment with tempo, pitch, and effects. Here are some popular free and paid DJ software options for stem separation to create your own DIY acapellas.
VirtualDJ: VirtualDJ leads the pack in stem separation technology, allowing you to isolate and manipulate individual elements of your tracks with ease. Whether you want to accentuate vocals, isolate instrumentals, or create unique remixes, VirtualDJ's stem separation feature puts the power in your hands.
Serato: Serato sets the stage for creative DJs with its innovative stem separation feature. Easily break down tracks into vocals, drums, bass, and more, giving you the freedom to craft one-of-a-kind mixes and remixes that will wow your audience.
rekordbox: Pioneer DJ's rekordbox shines with its advanced stem separation capabilities. With the ability to extract vocals, drums, and other elements from your music, rekordbox empowers DJs to redefine their sets, offering endless opportunities for unique and exciting performances
Lalal.ai: Elevating Your Acapella Game
For those seeking to take their acapella game to the next level, Lalal.ai offers a groundbreaking solution. This AI-powered platform allows you to extract vocals from any song, effectively turning any track into an acapella. Whether you're remixing a classic or experimenting with a modern hit, Lalal.ai's capabilities are truly transformative. The platform even offers a free trial, enabling you to experience its magic firsthand. What's more, Lalal.ai offers budget-friendly pricing plans, making this cutting-edge technology accessible to anyone on a tight budget.
If you're on the hunt for a comprehensive collection of acapellas, look no further than The DJ Mixtapes Acapella Packs. This hidden gem provides nearly 1000 meticulously curated acapellas that have been tagged with key information, making it a breeze to find the perfect vocal track for your project. Let's take a closer look at what these packs have to offer:
Classic Dance Pt.1: Immerse yourself in the world of classic dance anthems with 286 acapellas at your disposal. Featuring artists like Basement Jaxx, Crystal Waters, Inner City, and Jungle Brothers, this pack is a treasure trove for dance music enthusiasts.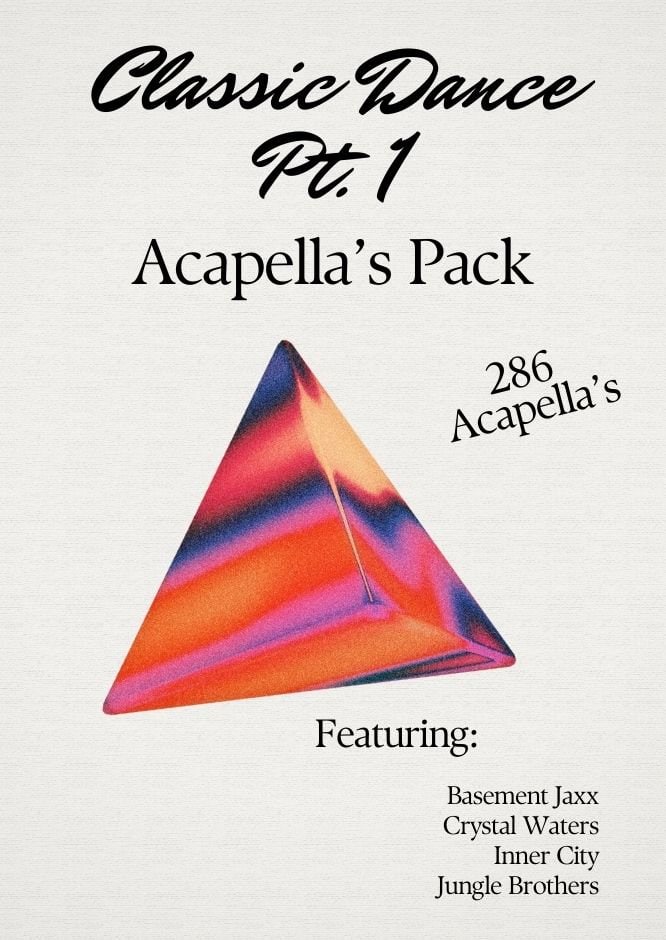 Classic Dance Pt.2: Continue your musical journey with 283 classic dance anthems, including tracks by Afrika Bambaata, Candi Staton, Angie Stone, and Josh Wink. It's a must-have for DJs and producers looking to infuse their creations with iconic dance vocals.
Old School Fire: Get nostalgic with 280 Old School Hip Hop, R'n'B, Reggae, and Dancehall acapellas. Featuring artists like Aaliyah, Beanie Man, Cute Ranks, and Jurassic 5, this pack is a goldmine for lovers of classic tunes.
Retro Pop: Transport your mixes to the '90s and 2000s with 143 retro pop hits in acapella form. With tracks by Madonna, Eiffel 65, Christina Aguilera, and Baha Men, this pack is perfect for open-format DJs looking to add a touch of nostalgia to their sets.

These acapella packs have been thoughtfully organized and tagged with key information, making it effortless to find the ideal vocal track for your musical creations. Whether you choose to download them individually or opt for the bundle pack for maximum versatility, you'll have a vast collection of acapellas at your fingertips.
Conclusion: Unlock Your Creative Potential
With a wealth of free acapellas available on websites like FreeVocals, Isolated Vocals, and Acapellas4u, coupled with the transformative capabilities of Lalal.ai, you have all the tools needed to elevate your music production. Whether you're a novice or a seasoned pro, these resources are invaluable on your creative journey. Don't forget to explore The DJ Mixtapes Acapella Packs, which offer a diverse collection of acapellas meticulously organized for your convenience.

It's time to unleash your creativity and take your music to new heights. Acapellas are your secret weapon; use them wisely and watch your musical visions come to life.
FAQ's
What are acapellas?
Acapellas, also known as vocal stems, are isolated vocal tracks from songs, free from instrumental accompaniment. They can be used to enhance music production, remix tracks, or create entirely new compositions.
Where can I find free acapellas?
You can find free acapellas on websites like FreeVocals, Isolated Vocals, and Acapellas4u. These platforms offer a wide range of vocal samples across different genres.
How can I use acapellas in my music projects?
You can use acapellas in your music by importing them into digital audio workstations (DAWs) or DJ software. From there, you can mix, remix, and integrate them into your tracks to add vocals and create unique compositions.
What is the benefit of using free virtual DJ software with acapellas?
Free virtual DJ software allows you to mix and manipulate acapellas seamlessly into your tracks. You can experiment with tempo, pitch, and effects to create distinctive sounds, making your music more dynamic and engaging.
Are there AI-powered tools for working with acapellas?
Yes, Lalal.ai is an AI-powered platform that can extract vocals from any song, effectively turning it into an acapella. It's a powerful tool for remixing and creative music production